Boating is all about being on the water. For one reason or another, those of us that own and use a boat, do so because we love being out on the water.
Now, just being out on the water isn't a recipe for a good time. Having the right boat that fits what you want to do, is the key to a successful and enjoyable time out on the water!
What's the Difference Between a Deck Boat and a Pontoon Boat? Both Deck Boats & Pontoon Boats are made for hauling and entertaining a larger group of people. The difference between the two deals with where and what kind of water you will be taking this group of people. Pontoons are the best fit for lakes and calm waters. Deck boats can handle rougher water with a lot of the amenities you get in a Pontoon Boat.
Here are the biggest differences, advantages, disadvantages, and things that you want to know about which style of boat is best for you!
The Physical Differences Between the Two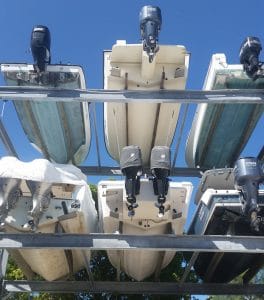 It doesn't take long to see the physical differences between a pontoon boat and a deck boat.
Something that should be taken into consideration is the material difference between the two.
Pontoon boats are basically a large deck or platform placed upon either two or three aluminum tubes.
This makes them extremely stable while the boat is sitting still, or idling around in calm waters.
Deck boats, on the other hand, are made out of fiberglass. They have a mono-hull, which is a single hull that has a deeper V to it.
There are a couple of advantages and disadvantages that we run into here with these two types of hulls.
Starting with the deck boat. The mono-hull allows for the boat to have better maneuverability when going through the water.
It allows it to be more versatile in being better for water sports like skiing, knee boarding, wakeboarding, or tubing.  It also allows the boat to perform better in rougher water and offshore performance.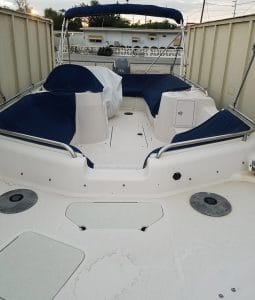 The disadvantage there though is that you loose topside space! The boat is more like a boat, as opposed to a giant party platform for entertaining.
Instead, you have conventional seating and gunwales.
Most deck boats have a walk through between two side mount seats. Walking you through the two of them to get to the bow.
Pontoon boats, on the other hand, are less controllable in the maneuvering department.
The two pontoons do not slice through the water as does the v-hull of the deck boat.
Pontoons with larger engines can still get your normal tubers and skiers up and then take them around the water.
There is just a lot less wake and turning ability as you have with the deck boat for the water sports. The biggest advantage of the pontoon boat though is that space.
Pontoon boats are floating patios! They contain a large platform that is usually laid out with the seats facing each other. The pontoon boat is great for canal cruising and entertaining large groups of people, at a decent price too.
A pontoon boat allows you to comfortably cruise the canals while someone grills hamburgers and hotdogs. Meanwhile, everyone else is comfortably sitting around close enough to each other to have a great conversation.
Taking Into Account, the Location
The difference's in the hulls and maneuverability, make the location a huge discussion point for whether a deck boat or a pontoon boat is better suited for you.
We are located in Marathon Fl which is in the middle of the keys. A small island with about 8,000 full-time residents living here year round. We have so many canals you could spend weeks canal cruising and still have more to see!
The difference for down here between the pontoon and the deck boat is the corrosion, offshore, and reef factor.
The floating party boat of a pontoon is not as favored because of a couple of factors, such as; the saltwater, temperature, wind, rain storms, and rough waters.
Deck boats are hands down more favored in coastal locations and islands. This is because of that monohull and being able to perform better in rougher seas.
The other hand of that is that the aluminum pontoons, in the corrosive saltwater of this area, don't tend to hold up and have the longevity as it does in fresh water or lakes.
Being that pontoon boats are so much cheaper though, we still see some of them every now and then. I believe this is only a factor for locations that are closer to the equator.
You don't have the same corrosive effects in Northern saltwater as you do down here. (Here's an article about the differences in the locations.)
So, with that being said. It becomes a question more about where you do your boating. If you have a lot of canals, and not a lot of open water. Then it will really come down more to a question of what you want to do with your boat.
What is Your Goal for Your Boat?
Given that we have talked about the physical differences between the two boats; thinking about your long term goals for the boat will factor in your decision of whether you want a deck boat or a pontoon boat.
The deck boat is more versatile in the water due to the hull, but the pontoon boat can comfortably handle more people. Think about it like a house and square footage.
The pontoon boat has twice the square footage than the deck boat. Therefore, you can host twice as many people for a sunset cruise than you could in the deck boat.
On the other hand, you can take people tubing and knee boarding during the day, a lot easier with the deck boat than you can the pontoon.
Obviously, you can use the boat for all of these scenarios, but which one is best going to suit you and what you would like to use the boat for, are the questions you must ask yourself.
If you only want a boat to go on sunset cruises and Sunday afternoon canal cruises; then the pontoon boat is going to fit a lot better than the deck boat.
Another factor is the ease of entry and exiting the boat. Pontoon boats have doors on the sides of them.
Depending on the docking situation, for instance, with floating docks, you can basically just walk on and off of the boat without having to do any kind of climbing, pulling, or bending.
Like you would with getting in and out of the deck boat. Where you would have to climb up onto the bow and then walk off.
If you are wanting to get in and out of the water, both boats usually have a 3 or 4 rung ladder on the front of the boat.
So getting in and out of the water or on and off the beach will be about comparable to the other.
With the exception of having the small climb down into the deck boat opposed to the climb up onto the platform of the pontoon boat.
Deck Boat Vs. Pontoon for Fishing

Neither of these boats are set up for fishing like a bass boat, center console, sportfisher, or offshore troller.
That doesn't mean that they are not good for fishing though.
Rod holders come in such a wide variety that you can add rod holders to almost anywhere on a boat, regardless of the type of boat.
They can be clamped onto the railings, drilled and inserted, or even bolted onto the side of something.
Rod holders are not really what holds these boats back from fishing. It really depends on the type of fishing that you want to do.
Both of these boats are pretty good in the water down to about 2 ft. Depending on which style and size you have, it can go down to even 16″ for some!
Which can get you back into some prime fishing locations; depending on the fish that you are looking to catch. The deck boat does have a little bit of an advantage over the pontoon boat in this category because of the hull type.
It allows you to go out and troll whereas a pontoon boat, you really don't want to take 15 miles offshore and troll for dolphin!
Don't forget that most pontoon boats have bimini tops, which can be taken down; giving you a massive flat, stable platform to cast from.
So you can really do some good shallow water fishing or getting up close to a grass line and pulling out some keepers.
As long as you know what kind of fishing you like to do and expect to do, this should lead you in the right direction to determine which style of boat is best for you.
Pontoon & Deck Boats in 2019
A lot of the information that we have talked about is basic, standard information for the layouts and functions of these boats.
It is important that we don't forget that at the time of this article, it is 2019 and a lot of things have changed in the marine industry over the past 20 years.
The advancements in four-stroke outboards provide for longer engine life.
Compared to 30 years ago, we can now look at the engines and see the digital controls and smooth quiet running conditions that can be experienced with these engines.
The reliability is way up!
The pontoon and deck boating world has changed considerably, due to the massive outboards that are now being produced.
Looking at boating magazines and seeing 26′ pontoon boats going 100 MPH! The industry has new outlooks for what a pontoon boat can do.
You can buy brand new pontoon boats today, straight from the dealer that will exceed 60MPH. Which in my opinion is just insane!
When we go back to the fundamentals of what a pontoon boat is famous for. It is the massive platform that can push a ton of people around on a body of water while they enjoy conversations with friends, food, and drinks.
It's kind of hard to eat cheese and crackers and take a drink at 65 MPH! I'm just saying, but being the one that would take the overpowered boat over the underpowered boat, any day of the week. I get it.
You are out on the lake at your favorite spot, and a thunderstorm pops up! It's nice to get everybody seated, scooted back and to the house quickly before the storm hits.
On older pontoon boats with a 25 HP engine, you were lucky to get back home before the storm was over!
So the speed is a nice feature for that aspect. The same goes for the deck boats. Having a 30 ft deck boat with a 400 HP engine is becoming a common scene.
Concerns For Large Outboards That Only Idle
I would like to quickly mention something which a lot of people like to gloss over. If you have a large HP outboard engine, and the engine never gets about 2000 RPMs; then it is a basic requirement that a fuel additive is used.
It is important to remember that outboards are designed to run 5,500 to 7,000 RPMs on a regular basis. It isn't like our cars; where we can go down the highway doing 70 MPH and the engine is only turning 2,000 RPMs!
When these engines never get up to temperature and run at higher RPMs, they will inevitably build up carbon inside of the engine.
Given that we know we don't want to run our pontoon or deck boat at 40 MPH's on a regular basis, but instead, just want to putt around the lake and entertain family and friends, it is going to be important to get used to using something like Yamaha Ring Free or Mercury Quickleen.
These will help burn off that carbon from the inside of the engine and ensure a long and reliable life out of the engine.
What's the Difference Between a Pontoon and a Catamaran?
This seems to be a pretty common question that pops up when looking around at pontoon boats. So it's a good time to address it here.
A catamaran is a boat that has two hulls that are on the outside of the boat but are a complete mold. When the boat is made, these two hulls are connected together inside of the mold and are one solid hull.
Whereas a pontoon boat is that platform that we have been talking about that sits on either two or three aluminum tubes that keep it afloat.
Are Pontoon Boats Stable?
The two or three tubes that are under the platform of pontoon boats, makes these boats surprisingly stable.
It isn't like a deck boat that is utilizing a monohull, which can get tippy when people are walking around and weight is shifting back and forth from side to side; inside the boat, while it is floating.
The pontoons having the support on the two outsides of the platform. This reduces the tipping and provides for a solid platform that can handle multiple people getting up and walking around the boat without "rocking the boat" too badly!
Are Pontoon Boats Safe & Can They Go in the Ocean?
Yes, and yes! This stableness that we are talking about on a pontoon boat, makes them extremely safe. With the exception of this new generation of pontoon boats that are doing 100 + MPH.
Pontoon boats are extremely safe. Remember, the core function of the boat is to allow 15 people to hang out on the water comfortably; without getting soaking wet and bouncing around.
It's a traveling living room made for canal cruising and entertaining.
As far as going in the ocean. You just have to use common sense and your own judgment. If the wind is blowing 50 MPH and the waves are 10 ft high, I would not be taking a pontoon boat out for a sunset cruise!
We hope this gives you a better understanding of the differences between a pontoon boat and a deck boat. Also, the different functions and applications that each are best suited for.
We'd like to invite you to come and check out our YouTube Channel: Born Again Boating!
We make all kinds of boating and How-To, DIY, outboard service videos; which are great to help you get through your projects on your boat!