Eliminate Your Boating Headache…
SAVE
Thousands
on labor
costs starting
today.
Starting right now, you can fix just about anything on your boat. Quickly, without mistake and without the need to pay a single dollar in outlandish repair "labor" costs! I'll show you how…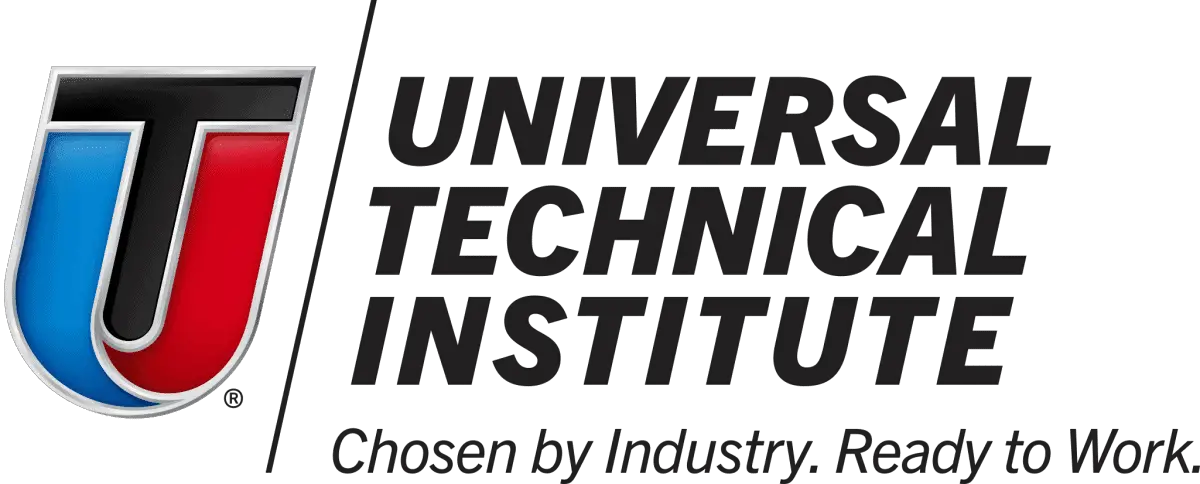 You've Found Your Way To The Perfect Place…
Here, almost anyone with ANY level of "mechanical" expertise and ability (assuming you at least own a screwdriver) can now, with our step-by-step guidance, fix just about any of the zillions of things that, all too often, go bad on a boat…
No, we're not talking about grinding camshafts or honing out cylinders, but we ARE talking about just about everything else…
Electronics, cables, live-wells, bilge pumps, compasses, wiring, switches, trim tabs, anchor motors, you name it! Like I said, pretty much everything on the boat!
Let a 10-year marina veteran guide you step-by-step on diagnosing and performing any repair, restoration or maintenance of your boats components & wiring regardless of the model.
The bottom line is this: not only are you going to save a boatload of money, but your boat will spend MORE time in the water and a lot LESS time out-of-commission.
There's No Better Feeling Than Being Out On The Water…
Whether you're adventuring, fishing, hunting, relaxing, competing, wakeboarding, skiing or diving, you can always count on a good time.
However, all boat owners eventually come to realize – being out on the water can get quite expensive!
The adventure brings its fair share of headaches and complications…
Repairing, replacing, diagnosing and spending LOTS of money have darkened the boating lifestyle we all love and enjoy…
Hundreds, Even Thousands Of Dollars In Boat Repair Costs!
Here's a real service invoice from a full 100-hour service on three engines…
This amounts to about $1400 PER engine and almost HALF of that cost goes to labor alone!
This cost is incurred no matter if you are getting a service on the engines, or you are getting your bilge pump or stereo fixed!
But, it doesn't have to be this way…
In fact, if you NEVER want to spend money on repair labor ever again, this will be the most important message you ever read.
Take a second to think about the last time you visited a boatyard, shop, marina or dealership…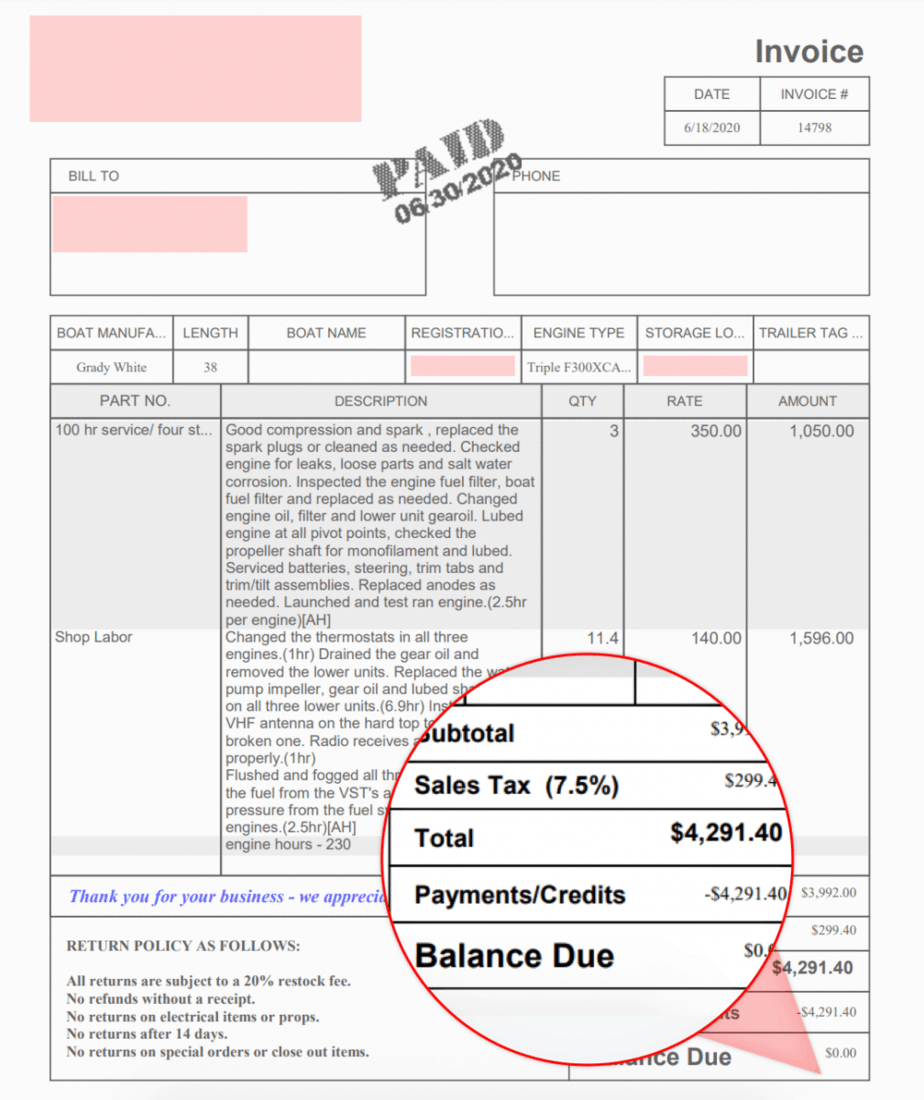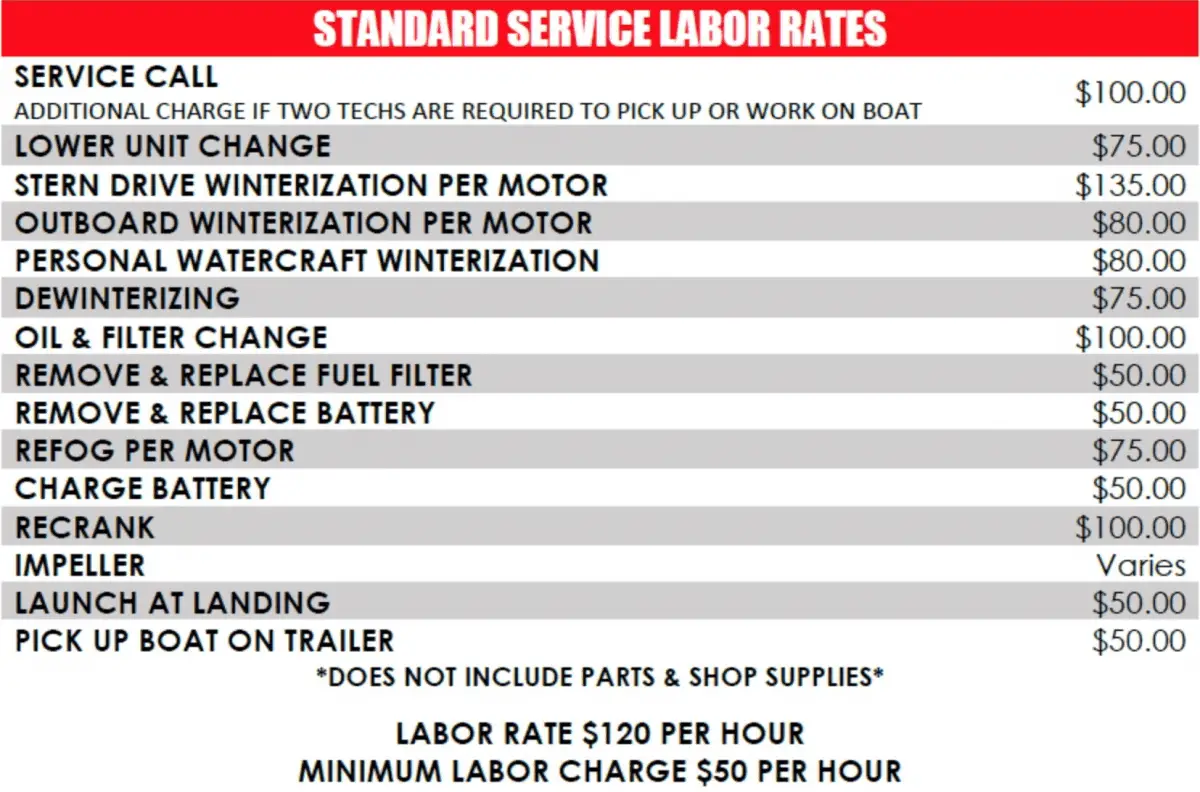 This Can't Be The Only Way…
Do you remember their repair rates? 
Anywhere from $50 an hour all the way up to $175+ in some areas!
Just take a look at some of the labor costs I've found from a quick google search…
Both of these shops are charging $120+/hour for their labor… which by the way is a GOOD deal.
Now, I don't know about you but I've never met anyone who gets excited about forking over repair money…
So, I created something to help you minimize this expense as much as possible! And from today forward, you can avoid spending your hard-earned money on repair labor…
But before I let you in on the expense-saver, a little bit about me…

 What Past Clients Are Saying About B.A.B…
"Founded and still running the show, right down to the smallest detail, is Aaron Hilligoss…a boat-loving young man who has personally worked on over 2,400 boats….and whose boating journey continues today, having become along the way, a widely known and revered lead marine technician in the Florida Keys….. graduating from The UTI Marine Mechanics Institute back in 2012 and is today certified by the biggest Marine Outboard Manufacturers in the World."



Hi, I'm Aaron, Your Personal, Dedicated Marina Technician!
My name is Aaron Hilligoss – after graduating from the Universal Technical Institute, I set out on my most ambitious project to date…
I was going to purchase old, forgotten & broken boats and repair, restore and bring them back to life!
In the process of fixing boats, I would document the entire journey and put it on YouTube (completely free) for others to learn and avoid expensive repair costs…
Before we knew it, we had over 110,000 subscribers from ALL over the world who were watching our videos to save hundreds, even thousands of dollars in repair costs AND learning about their beloved boat at the same time!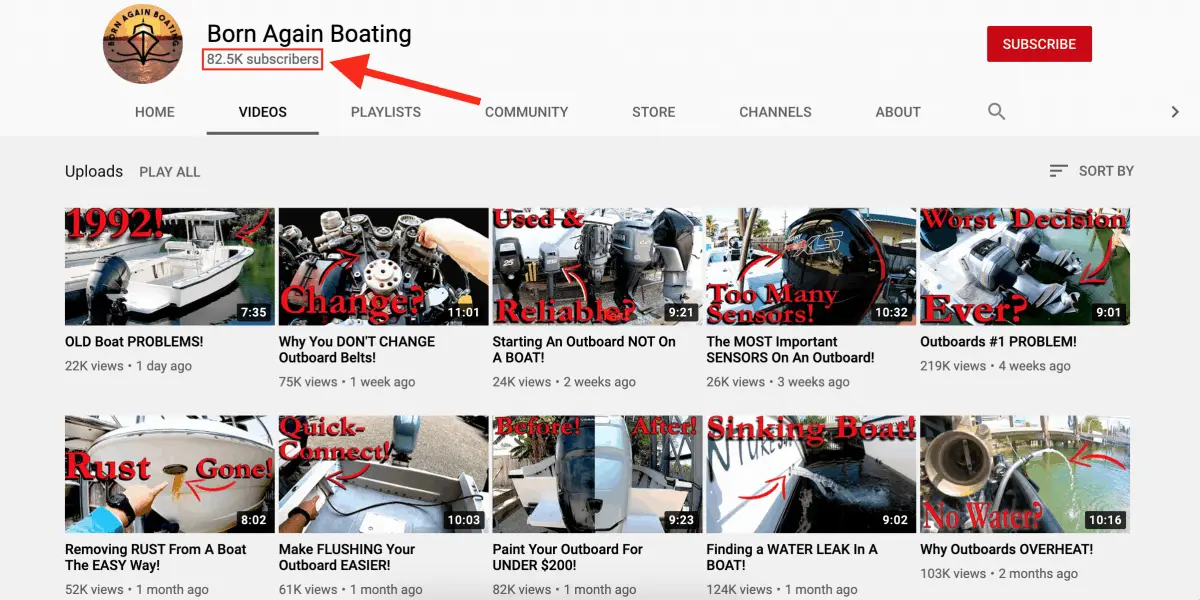 This is where Born Again Boating was born!
As a professional marine technician for over a decade with both 5-Star Yamaha and Mercury outboard certifications, I've seen too many excited boat owners purchase a boat only to be CRUSHED by the unexpected repair costs…
Someone had to do something!
Why wasn't there a dependable go-to source where boat owners could find the information and confidence needed to repair their boat and get back on the water?
Well, I have some good news…
We created it! And it's an honor to present to you…

The B.A.B. Academy & Community!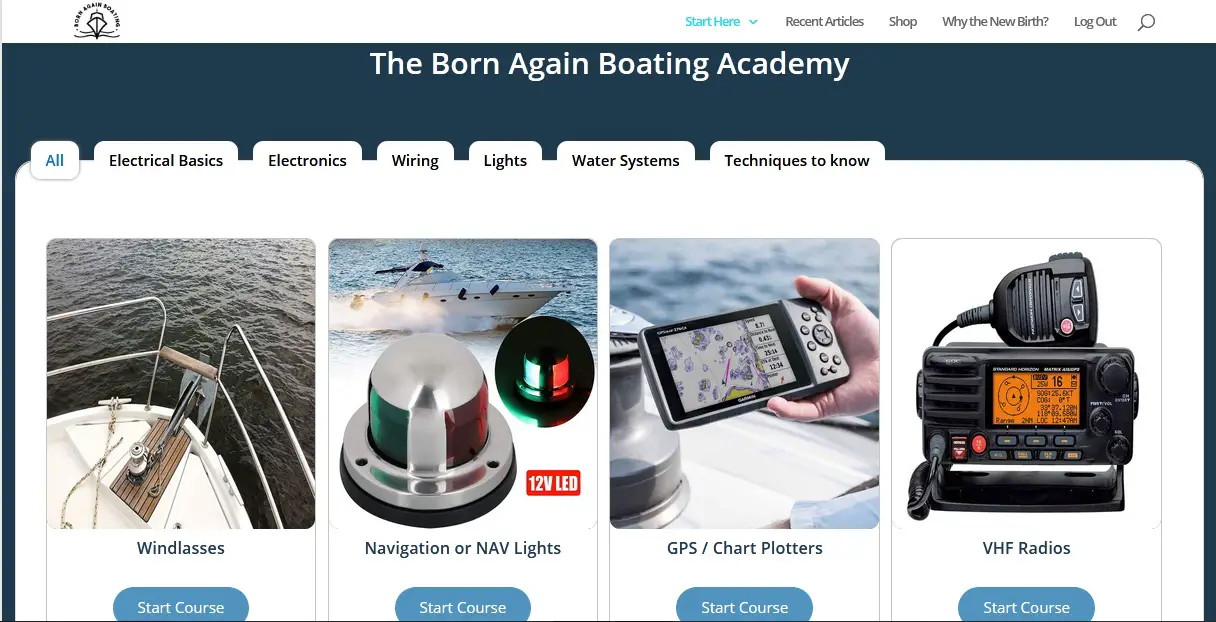 Total Boating Freedom Is Here!
A community for boaters to discuss and reach out to technicians & fellow boaters for answers to their boating problems.
And it gets even better – because by the end of 2020 we'll also be launching the full B.A.B Academy Membership Program…
If you've seen our ongoing project of the 1992 23' Ocean Master that we put a new fuel tank, transom, bracket, four-stroke and many other restorations on…
You're gonna be stoked to know that we completely rewired the ENTIRE boat and now have the full online course showing you exactly how to wire all the lights, pumps, stereo, radio & all the other electronics on the boat!
We dive deep into the details of which wires to use, how to run them through the boat, hook them up and configure absolutely everything.
In fact, we'll even walk you through, step-by-step on how to replace all your switches!
Welcome to D.I.Y. Paradise!
Once you join the academy, you'll receive access to an easy-to-use online portal where we've compiled over 80 brand new & exclusive membership How-To Videos where we add brand new videos and courses every single month!
This is to also accompany the free 107 full-size articles and over 150 YouTube DIY videos on how to diagnose and repair your boat regardless of the issue!
When it comes to failing lights, pumps, switches, cleaning, fixing and keeping your boat up and running, there is no better place to learn about your boat and avoid the expensive repair costs!
Understanding the volume of issues that can arise on a boat, we created the annual membership program to the Academy. This way, as the boating industry changes and problems evolve, we can continue adding new content and updating the Academy.
Take Control Of Your Situation…
I'll Show You Exactly How!
You'll become a mechanical monster… a miracle worker… A MAGICIAN!
This is the most thorough, detailed, yet, amazingly easy-to-follow approach to boating repair ever made available Every instruction is given step-by-step…
Every step both clearly narrated and shown in crystal clear 4k video. All sitting right in the palm of your hand, right on your phone! You can replay "instructions", fast-forward, watch & learn in "Slo-Mo", all that good stuff…
In short, you have nothing to lose and everything to gain!
Imagine being able to fix or replace any component of your boat…
Imagine saving thousands of dollars in repair labor fees…
Imagine not having to wait weeks or months to get back out on the water…
It's ALL possible. So what are you waiting for? The time is now!
Click the button below to sign up for our free Community and join our email list so when the Academy Program goes live, you're the first to know!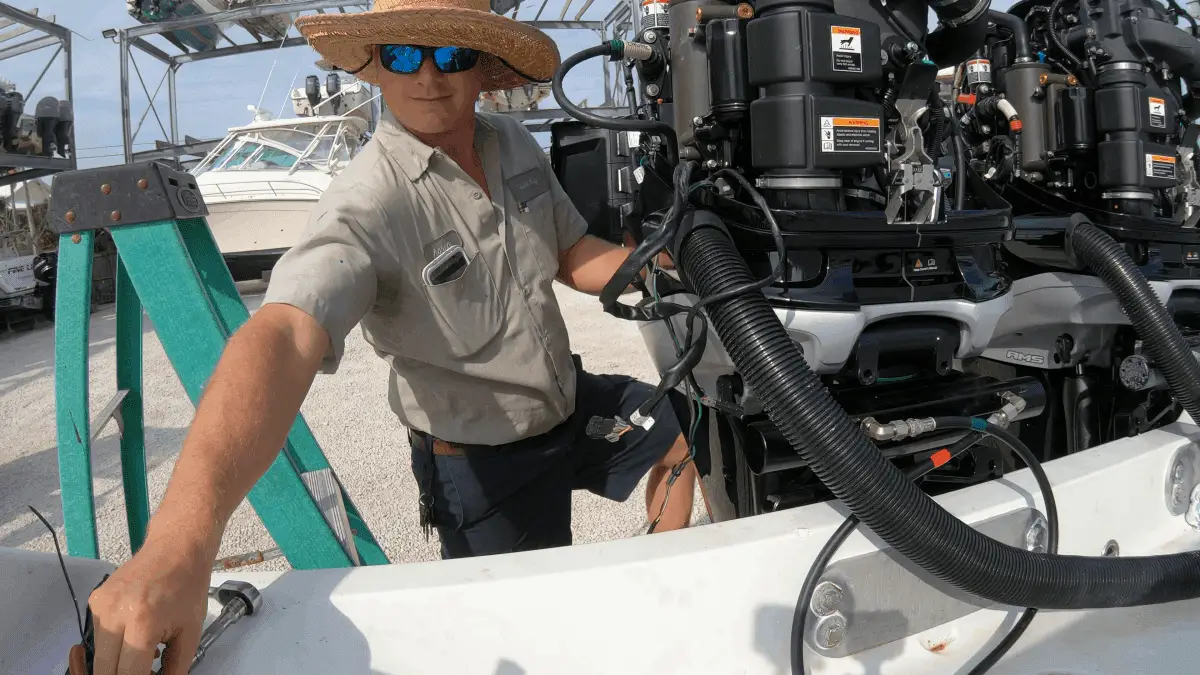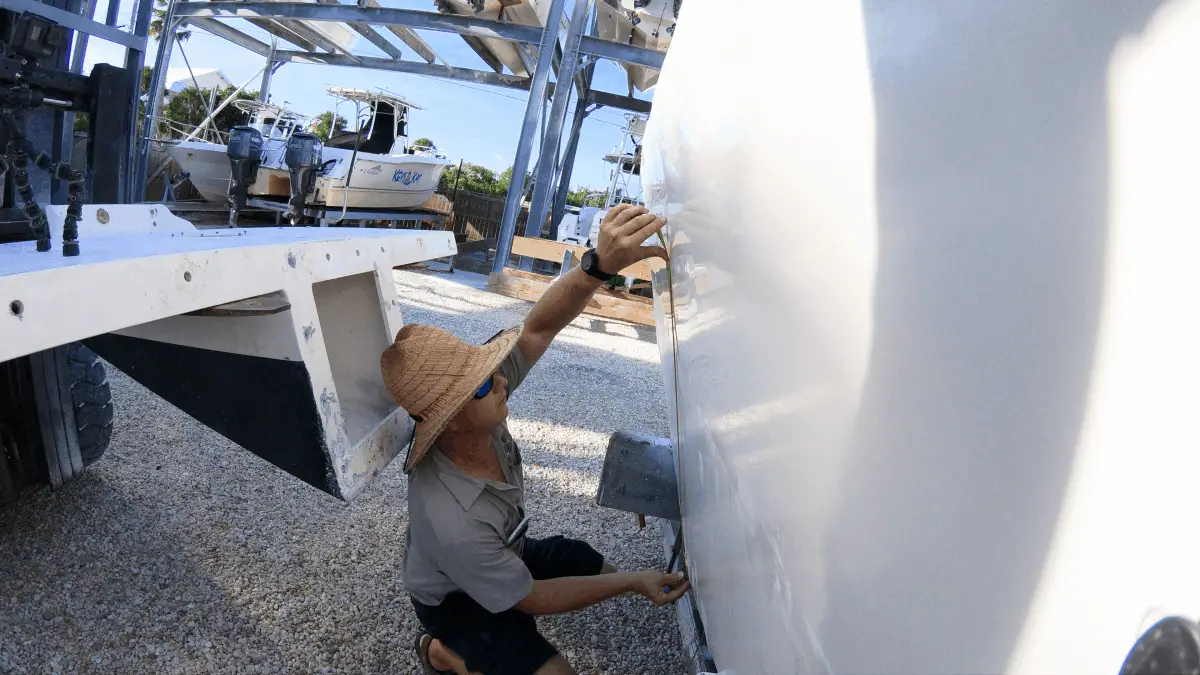 Together, We'll Make a GREAT Team…
Like everything else about Born-Again-Boating, we keep things simple… nothing tricky here.
Compared to the thousands of dollars you'd probably otherwise be forking over annually for boat repair "labor" costs, this approach is definitely a bargain…
Simply put, we're offering One Year Memberships for just $299 per year!
This gives you year-round 100% access to everything we've created and produced which means almost anything and everything you can imagine! You'll also have access to all new content totally free!
And we will be continually adding new membership exclusive content every single month!
COME ABOARD! You'll like it here, knowing that, from now on, you'll be spending more time on your boat and spending a lot less money on costly boat repairs.
The Born Again Boating Website & YouTube Library

The Born Again Boating Academy & Community