If you are new to boating. Probably one of the most asked questions in the beginning is:
How Much Does It Cost To Own And Operate A Boat? Owning a boat will cost you in six major areas: Purchasing the boat, insuring, storing, maintaining, operating, and collecting the gear for the boat.
Boat ownership costs can seem endless. Here are the biggest expenses and how you can calculate what it will cost you to own a boat.
The Initial Purchase Price of the Boat
Boat ownership cost begins with buying a boat. Now, obviously what kind of boat you buy will determine what kind of costs you will incur. I'm not talking about a brand of boat or what style of boat here.
I am talking about the condition of the boat.
In my opinion, there are three different types of boats that you can buy. You have new boats, used boats, and then project boats.
Depending on which of these you buy, will greatly determine the initial costs that you will be facing.
Buying a new boat will be the most expensive out the gate. At the same time though, you won't be looking at making any kinds of costly repairs to the boat for a couple of years. Don't misunderstand me here though.
Boats can be expensive
and there are a lot of things that can go wrong with them. I just don't want you to get the impression that a brand new boat means, "problem free!"
It's also important to know how much depreciation you will lose when buying a brand new boat; making a used boat a really good option. Looking for a nice used boat with a good engine, low hours, and clean.
Then you have the project boats! These are the boats that will need significant repairs made to them.
Repowering, fuel tanks, transoms, stringers, and other very costly expenses that will need to be done to make the boat usable. (Read this article to learn more about What You Should Know Before Buying A Project Boat!)
This cost must be factored in using your own numbers and boat that you are looking at buying.
If you would like more information about boat buying. Read our article about What Is The Best Boat To Buy For A Beginner?) (We wrote it to provide you with the information you need to make an educated purchase when you go to buy a boat. We don't sell boats here!)
To add some numbers to our story here though, let's say we settle on buying a $15,000 boat. So our total cost of owning a boat so far is $15K!
Will You Be Insuring The Boat?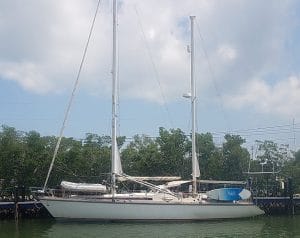 When figuring out what it cost to own a boat; you also want to look at how you are paying for the boat. Are you using financing or paying cash?
Do you see the boat as an investment? Are you going to try and rent it or charter it out? Is it for recreational use or commercial?
I'm guessing that most of you are looking for the cost of a recreational boat and not going to try and make money off of the boat.
Either way, a boat is a big investment and you should know what you are getting into. We wrote a great article describing the pros and cons of what makes a Boat a Good or Bad Investment!
The way you purchase the boat and what kind of boat you buy will determine whether or not you need to have insurance on the boat. For most of us, we pay cash for a used boat and don't have any insurance on it.
I'm not suggesting that this is right or wrong. Being a Marine Technician and only having a couple thousand dollars in my boat; there isn't really any need for insurance. Yes, the boat lives in the water.
But for the majority of boat owner's,
a vast majority of them keep the boat on a trailer. Leaving it parked in the yard for half of the year.
I know a lot of people that utilize seasonal insurance. Where they only insure the boat for half of the year that they use it. Then again, if you are using financing, the bank will generally require you to keep insurance on the boat.
So, this cost will vary and depending on your track record and boat style. The general rule of thumb that I have found is that you will pay 1.5% of the boat's value, every year.
Meaning a $10,000 boat will cost about $150 a year. For a $50,000 boat, you will be looking at about $750 per year. This is a general rule that works across the board, with a little variation depending on your boat and you!
Let's say we go ahead and get the insurance on our boat, bringing our total cost of owning a boat to $15,225 for the first year.
Where Is The Boat Going To Be Stored?
After buying a boat, we should have already given some thought about where we are going to store it. The boat has to live somewhere, and not all of us own a house on the water, a big yard, or a huge barn to store the boat in!
Boat storage prices are going up, and it can get pretty expensive depending on where you live. It is going to cost a lot more to store a boat on a dry rack in Key West than it is to park it on a trailer in the middle of Idaho.
You might have some added costs if you are going to leave the boat in the water. If you do have the dock space and don't have a lift; you are going to want to paint the bottom of the boat with bottom paint.
This can range from $1000-$2000 depending on how big of a boat you have. (Here are also some other pointers to think about If You Are Going To Leave Your Boat In The Water.)
You might also want to think about the Difference Between Freshwater and Saltwater!
Generally, most storage facilities will charge anywhere from $10-15 per foot, per month.
Depending on the length of the boat. Rates in the Florida Keys are going up and down, here the base is around $12 per foot, then goes up to about $17-18 per foot.
It's important to note that we are also talking about boats that are up to 42′ long and have 20′ towers on them!
If we go back to our story, let's say we bought a 23′ and we are going to pay the average of $12 per foot. At $276 per month, this brings our total cost of owning a boat to $18,537.
Don't Forget to Properly Maintain it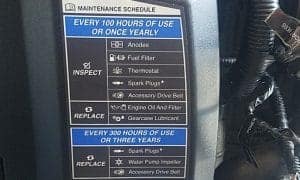 Maintenance is a huge part and cost of owning a boat. It determines the reliability and life span of the engine. If properly maintained, the boat and engine can last for 20-30 years. Then if it is abused, maybe only 2 or 3 years!
Was the engine properly broken in? What kind of engine do you have? Is it an Inboard or An Outboard? The cost will differ between the type of engine and also how many engines you have.
We give a great break down about the differences between an Inboard and an Outboard and what's right for you.
In that article, we give a  better break down of what your general costs are and what needs to be done for your regular maintenance periods. Here we will just stick to the numbers to factor what it cost to own a boat.
The General Numbers for Inboard Vs. Outboard Maintenance Cost:
Inboards: Average $200-$500 per engine in parts.
2-Stroke Outboards: Average $150-$300 per engine in parts.
4-Stroke Outboards: Average $300-$1000 per engine in parts.
On our 23′ boat we are going to be sporting a beautiful 300 HP Suzuki! This year we will go ahead and do the impellers so we will go with about the max of $1000.
Bringing or total cost of owning a boat to $19,537.
Boats Don't Run on Hopes and Dreams
This is where reality sets in and the numbers start to get fun! So we know, that boat's don't run on hopes and dreams but very real and expensive gasoline!
In most boating communities around the world, we have Non-Ethanol fuel available. This fuel can get pretty expensive and even more so on the water.
As of the time of this writing, fuel on the water costs $3.50, but in some states, this can get up to $7-8 per gallon!
It is extremely important to use non-ethanol fuel in the boat. Ethanol can be damaging to the fuel system of the boat and cause major headaches. Using ethanol affects the rubber gaskets and o-rings in the fuel system.
It can also suck in condensation and collect water in the fuel tank. Now, with that said, I'm a big advocate for not using ethanol in the boat. I do know a lot of people that do still run ethanol in their boats.
The difference is that they burn all of the gas that they put in, in only a couple of days. So, they alternate every 4 or 5 fill-ups with non-ethanol fuel. Not allowing the build-up and phase separation of the fuel.
Fuel becomes so expensive especially when a boat can burn anywhere from 2 gallons per hour up to 35 gallons per hour!
So, boating can get pretty expensive at the pump!
This will change depending on where you live and where you buy your gas. For us and our story. Let's say that we have a 150-gallon tank and during our boating season we fill it up 10 times. (We like to use our boat!)
Say it's about 130 gallons each fill-up because we don't let the tank get completely empty. So we burn about 1,300 gallons a year!
This brings our new total for boat ownership to $24,087! Keep in mind, this is only the first year.
Boating Isn't Fun Without Gear!
Now we come to the part that is entirely on you! There can not be a price put here because this is specific to the individual.
I just want it to be known that boating and fishing gear can get super expensive! If you really want to see this in a practical aspect. Just spend about 10-15 minutes browsing through Bass Pro's, or West Marine's website!
You can spend 10's of thousands of dollars on fishing equipment, really, really quickly! Then add on a $500 Yeti cooler, some bean bags, umbrellas, a grill, and some floaties…
The sky is the limit when it comes to buying boating gear to enjoy out on the water.
Let's just say we spend $5,000 to get started and we are pretty set for all the tubing, knee boarding, wakeboarding, skiing, sandbar fun, and fishing we want to do in our area.
Our total cost of owning this boat is now $29,087.
What's the Total?
With a total of about $30K for our 23′ boat. This is just the first year. When we spent half of that just on the initial purchase price.
We can assume that our cost for owning and running the boat each year will be around $15K. That is if we keep up the expensive habits of spending $5K on gear each year.
That $5K can also be used to account for going out on the water. Buying drinks, food, ice, and other stuff that makes our time on the water more enjoyable.
This is a general estimate of what it is going to cost to own a boat. You can take these parameters and fit your own situation; how you want to use your boat, and what you want to buy for the boat.
I have tried to inflate the numbers a little just so there aren't any surprises, but this is pretty close to what you will spend to enjoy owning and using a boat each year.
Hopefully, this helps you get a better understanding of what it is going to cost to own a boat. You should be able to ball park your real cost, now knowing what your common expenses are going to be.
If you've got any questions or comments, let us know by subscribing to our YouTube Channel!
And if you would like to support us to continue bringing you great content, please click the link below to Amazon where we get a commission from anything you are already going to buy!
And you can also donate by clicking the donate button here or on the right hand of the screen!
It really helps us out and we thank you so much for your support!
Thanks for reading and we look forward to reading your responses and comments.
We'd like to invite you to come and check us out on our Youtube Channel: Born Again Boating! We make all kinds of How To and DIY boating videos. Along with a ton of Outboard service videos with in-depth visual hints, tips, and outboard service tricks.
Get subscribed to the channel and add us to your favorites so we can become your go-to resource for all of your DIY boating projects!