When it comes to using a boat, there are many places and situations you will find yourself in. Whether it is at the sandbar, a slip at the restaurant, or docking for fuel. You will want to be able to protect your boat from damage when in these situations by using boat bumpers or fenders.
Boat Bumpers or Boat Fenders: Boat Bumpers or Boat Fenders are a device used to place a cushion between the boat and anything it is tied to, in order to protect the boat and what it is tied to. They are made from either plastic, rubber, or foam.
Here we will teach you all of the things you need to know about bumpers, the different kinds, how to use them, and how to pick them!
What Is A Boat Bumper?
A boat bumper, or boat fender, is a pad or cushion that you place on the side of your boat. The bumper acts as a cushion when your boat comes into contact with another boat or a dock. It absorbs the force of the impact, keeping your boat safe from any damage.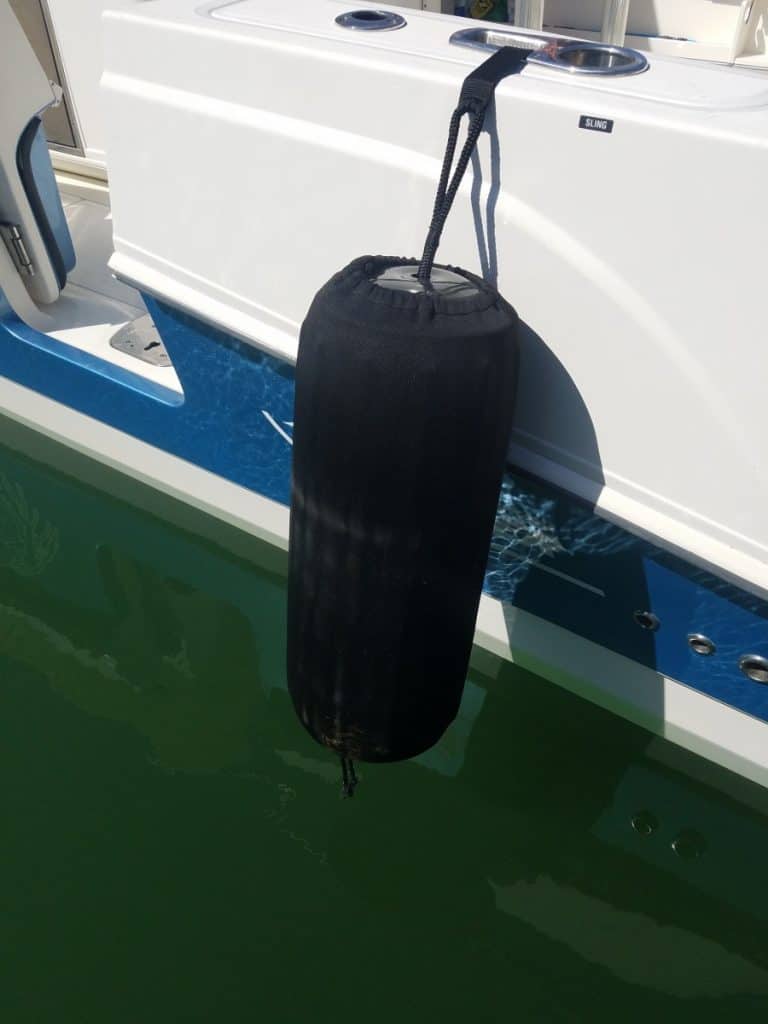 Bumpers are able to do this because of their intrinsic properties. They are usually made out of foam, rubber, or soft plastic. The soft materials deform during the impact and absorb all of the force. Thus, they are able to prevent damages to the boat through accidental contact or when tied up.
When you tie your boat up, the raising and lowering of the tide or water will make your boat move slightly.
The waves can make your boat smack up against the dock repeatedly. Causing damage to your boat and the dock.
That is why we place a bumper between the boat and the dock when tying the boat up. The bumper absorbs all of the force and prevents damage to your boat and the dock.
Even when you raft up with another boat, the waves can make the two boats smack up against each other. By placing bumpers where the two boats come into contact. You can protect both of them from scratching up and causing damage.
Whenever you tie up your boat, whether it is to a dock or another boat, it is a good idea to hang out your bumpers first.
Boat Bumpers for Boats, Pontoons, & Inflatables
Big or small, all sorts of boats make use of a bumper for damage protection. From a small center console to a huge cargo ship, you can find bumpers on almost any vessel in the sea.
Historically, sailors used bumpers made out of woven rope to protect their vessels out on the water. Gradually, they shifted to ones made out of foam, rubber, elastomer, or soft plastic. Some people even repurpose old car or truck tires to serve as bumpers for their boats.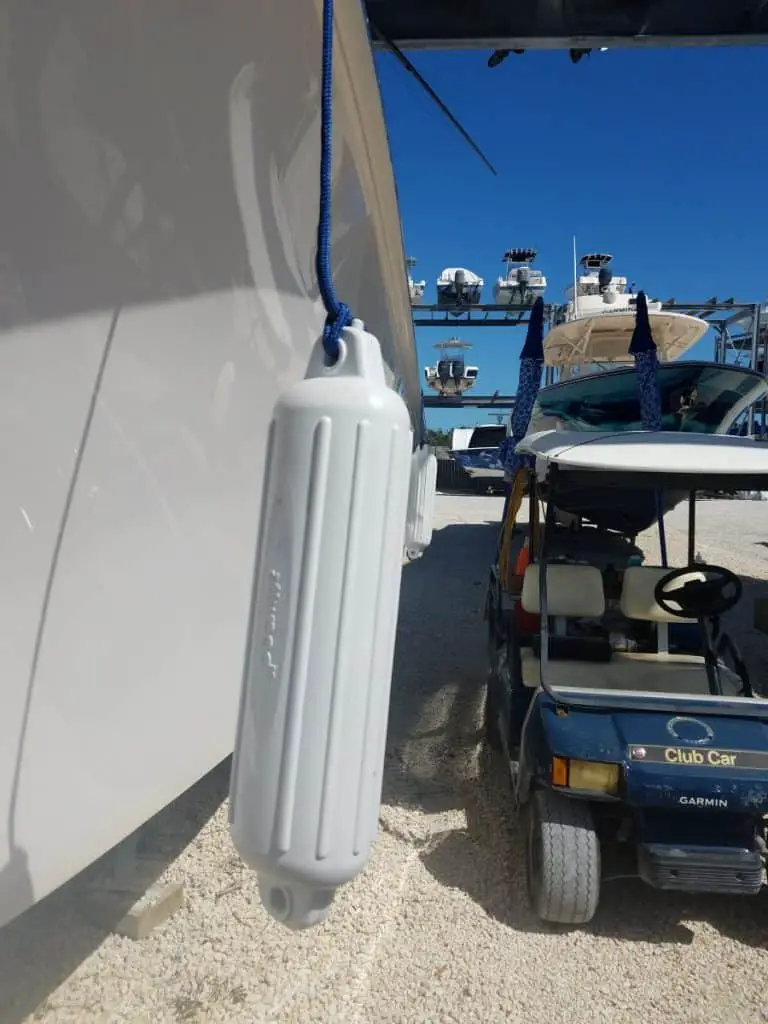 The number and material of boat bumpers you should use depends on multiple factors, such as the weight and size of your boat.
Boats generally do not have permanent bumpers on-board. You hang the bumpers out the side of the boat only when needed. When you are about to reach another boat you want to raft up to.
Or when you approach a slip for docking, you can put out the bumpers. When you detach the boat and head out to open waters, you usually put the bumpers back in storage.
Boat Bumpers for Docks
Boats are not the only things that make use of bumpers. You can find bumpers on ports, berths, and docks as well.
Unlike the bumpers on boats, the bumpers on the dock are permanent. They are installed permanently at the side of the dock where the boat makes contact with the dock.
These bumpers cushion the impact as you maneuver the boat into the dock. Thus, they allow you to easily dock your boat without causing any damage to the boat, or the dock.
The boat bumpers on docks are usually old rubber tires from land vehicles. The rubber provides a convenient cushion and a large surface area for boats of all sizes to safely park on the dock.
What Size Boat Fenders Do I Need?
We have established that boat fenders are essential to keeping your boat safe when tying it up. However, you might be confused as to what size of boat fenders you should get for your boat. However do not worry, we are here to help you out.
Boat fenders come in varying sizes. If you buy small fenders, you will need many of them to effectively protect your boat. To avoid the hassle of storing multiple fenders on your boat. And hanging all of them out when you need to dock, it is a better idea to buy a few adequately-sized ones.
We recommend buying fenders that are at least over an inch thick in diameter. And your normal fenders, like the ones you can find here on our resources page, are a great place to start!
However, the number of fenders you should buy depends on the size of your boat.
If you have a small-sized boat, you might be able to get away with only two fenders for your boat. You can place one near the bow of the boat and one near the stern to effectively protect your boat from damage.
If you own a big boat that is over 40 feet in length, you may require more than eight fenders per side! Since you have a larger area where the boat can come into contact with the dock.
You have to make sure you cushion all the points of impact. Otherwise, you can end up with scratches and even holes in the side of your boat!
As a general rule of thumb, you need at least one fender for every 5 feet of your boat's length. Thus, if you have a 20-foot long boat, you can make do with four fenders per side of your boat.
In reality though, in our opinion, even with a 40-footer, four fenders would be fine when spaced evenly on one side of the boat. If you are rafting up, whoever is on the other side has to bring their own fenders! 🙂
Where Should A Boat Bumper Be Placed?
You need to place your bumpers at all points of contact when rafting or docking. However, you should not hang the bumpers out all the time.
Only hang them out when you are ready to dock or raft up. Otherwise, the fenders or the rope tied to it will be flapping all around in the wind. Against the side of the boat and even up into the helm. Causing all kinds of distracting effects to the captain!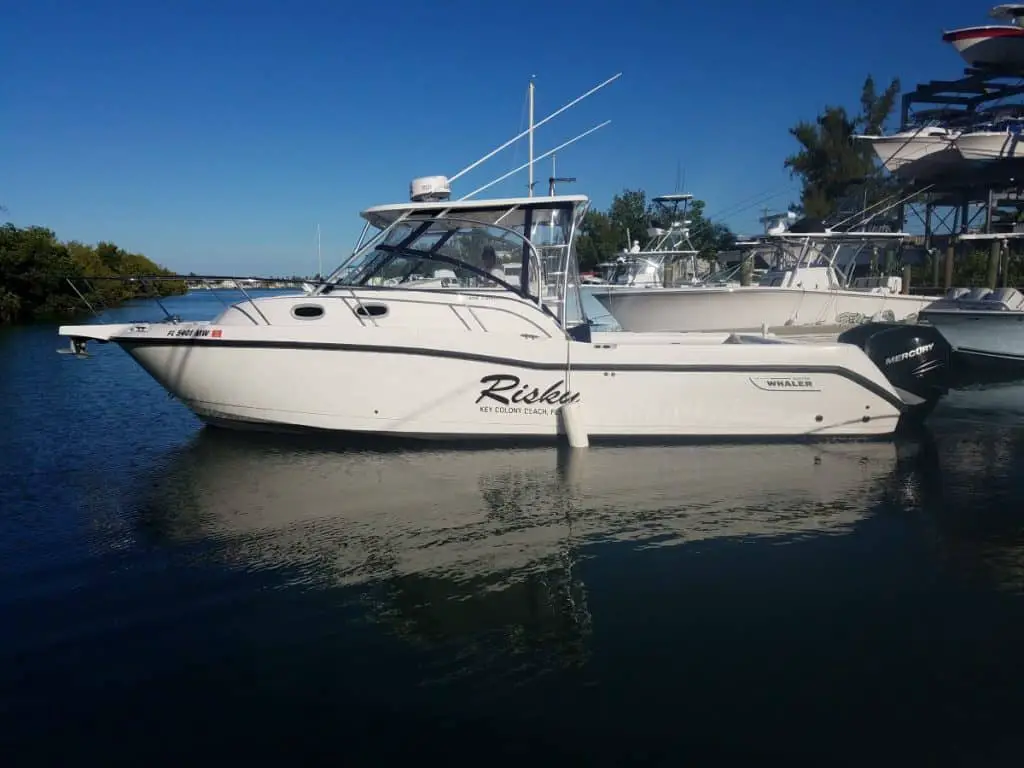 The proper way to place the boat bumper is to ask your crew to hold the line as you maneuver it into place. As you make the small adjustments to your boat's location in the water. Ask the crew members to adjust the position of the bumper as well.
The crew should place the bumpers exactly at the point where your boat makes contact with the dock or the other boat.
Make sure to hang the fender at the middle of the boat. Also, remember, your boat can make contact with the dock under the water. Placing the fender in the middle will prevent this from happening and protect it most effectively.
It is a good idea to keep your fenders loose when docking or rafting up. Only when you tie up your boat securely, should you secure the fenders. This ensures that your bumpers are always in place to prevent damage to your boat.
Always remember, it is better to have more fenders than necessary, rather than fewer. If you are unsure as to how many fenders you should attach to protect your boat, always hang them wherever you think the boat can come into contact.
What Are The Best Boat Bumpers or Fenders?
If you are looking for the best boat bumpers to protect your investment, we can help you out. You can find our recommendations for different fenders here on our resources page for boat accessories!
For small boats, you can get a fender that is 3.5 inches in diameter and 12.8 inches in length. However, if you have a big boat, (and this is what we recommend) you can get a larger rubber fender that is 8.5 inches in diameter and 28 inches in length!
Even if you have a mid-sized boat, you can get something in between to meet your requirements.
With this general purpose boat fender, you can effectively protect your boat at an extremely affordable price point. That is what makes this our fender of choice for our personal boats.
Now that you know all about boat bumpers! Here are some other extremely helpful articles from us that you will want to check out!
We'd also like to invite you to check us out on our YouTube Channel! Where we create all kinds of how-to and DIY videos to help you learn more and more about your boat and how it works!