In the world of boating, there are a lot of different styles of boats. With such a vast array of boat styles, it's hard to keep up with all of the advantages and benefits. To the many, many different styles of boats. Leaving us to wonder about each one!
What Are The Advantages & Benefits Of A Center Console Boat? Center Console Boats are best suited for fishing of all kinds. They have also evolved from not just fishing but into a well-suited family sport type of boat. With the ability to easily walk around the entire perimeter of the boat. They make fishing and diving easy, as well as having the ability to cruise at higher speeds.
With so many advantages to cover, when you finish this article you will know all about the pros and cons of a center console boat!
Why Are They Called Center Consoles & What Are The Advantages/Disadvantages?
The console of a boat is where all the controls and electronic equipment of the boat. The steering, ignition, radio, GPS, and compass, etc. are all on the console.
On center console boats, this console lies in the middle of the boat. This is where these boats get their name from. This positioning and the pre-installed windshield on many center consoles.
Provide the boat captain with protection from the wind and spray. There is often also a shade on top to protect against the sun. By the use of a T-top or tower.
Often, boat manufacturers use the space under the console for a storage compartment. Some even use this space to build a head for the boat.
Most center consoles are outboard driven. Only a few of these boats have an inboard or stern-driven engines. If you would like to know about the advantages and disadvantages to Inboard Engines Vs. Outboard Engines. Read that article there that we have written!
What Are The Pros To A Center Console?
By placing the console in the center of the boat, the rest of the deck area remains open. This results in two main advantages.
Captain visibility and accessibility:
The central position of the boat grants the captain a 360-degree field of view. This makes piloting the boat much easier for the captain. Maneuvering around tight corners or pulling into a busy dock on a center console is a piece of cake for experienced boaters.
The easy access to either port or starboard side also helps in docking and in fishing. Often, just one veteran mariner is enough to dock a center console successfully; no additional crew is required.
Deck room: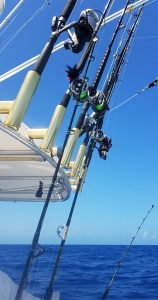 There is more all-around deck space on center consoles compared to any other boat. This is because there is usually no cabin or other accommodations taking up valuable space.
You can easily walk from the bow to the stern of a center console without stepping over things on the way.
This space-maximizing design of the center console makes it an ideal boat for fishing. The ease of walking around on deck without disturbing the pilot makes for less obstruction. While trying to catch a particularly reluctant fish.
The many different fishing rod-holders present all around the center console. Also, gives plenty of room to carry all the different rods that are needed for different types of fishing.
Apart from the rod-holders, many center consoles have other features for fishing. Such as hardtops with outriggers and downriggers. Read this here for more information on Fishing Outriggers, What They Are & How To Use Them!
Though fishing is the main activity where center consoles excel.
Their versatile design makes them capable of many other activities. Center consoles often have a high V-shaped hull. This makes them able to take on the deep-sea waves without any trouble.
This is why many people who like to go offshore fishing choose to do so in a center console. Due to the increased space, many center consoles have seats in the center and bow of the boat. In some cases, there is also seating on the stern just forward of the transom.
Having this many seats allow you to invite more guests on board for a leisurely day out on the water when you're not fishing. The included head in the console on many center consoles ensures that your guests are comfortable throughout the trip. Opposed to using buckets 😉
Another advantage of center consoles lies in their extreme customizability. You can go for a single-engine design with minimal deadrise for maximum efficiency.
Alternatively, you can go for a fuel-guzzling, quintuplet-engine monster. With an extreme deadrise that absolutely tears through water and offshore waves without breaking a sweat!
This customizability even makes some center consoles suitable for water-sports. Some of these have ski pole attachments, either on the transom or the back of the T-Top. To make waterskiing and wake-boarding possible.
Now obviously you won't get the same experience as you would with a wake boat. Though these water-sports are certainly possible on center consoles, wake boats have one specific job.
To pull a wake-boarder!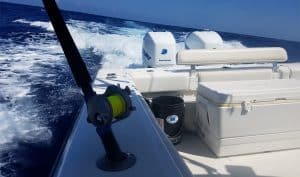 As such, they have many features to help in this matter that are lacking in center consoles. If you are looking to catch some serious air, go for a wake boat.
However, if you want something versatile that can do a bit of fishing, a bit of leisure boating, and still be able to do some water-sports, center console boats are a good option.
Beyond their use cases, there are various advantages that center consoles have over other types of boats. Since there is usually no cabin, center consoles can be more lightweight, which makes them more fuel-efficient and have a longer range.
This also makes pulling them on a trailer easy as well. Many center consoles require only a quick scrub-down with freshwater and a flushing of the engine after use in saltwater. This helps keep their maintenance costs low.
If you've never experienced saltwater before. Then you should read this that explains all about the Differences Between Saltwater Boating & Freshwater Boating!
What Are The Cons To A Center Console?
On the flip side, center consoles have a couple of disadvantages too. The first of which is their price. Center consoles are usually much more expensive than, say a deck boat, bowrider, or pontoon boat.
For more information on the Differences Between Deck Boats & Pontoon Boats, check out that article.
Another disadvantage to center consoles is that they can segregate the people on board. You might not think of it as much of a problem at first. But when you account for the engine noise and the console being directly between the people on the bow and the stern.
You can begin to understand why people on board may get isolated. Center consoles often also provide passengers with minimal weather protection. With only a T-Top over the console on most models, if you run into rain, you are sure to get wet!
On smaller models, there is often low storage space. There are also no amenities on board, except for maybe a head. This is not a problem on higher-end and bigger center control yachts, but these can go for quite a ridiculous amount of money.
Center Consoles Vs. Deck Boats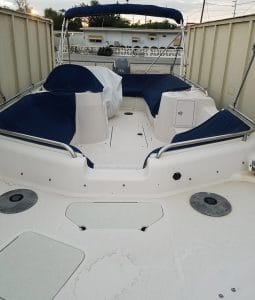 Many buyers looking at center consoles as a potential purchase. Might be looking at other options as well, such as deck boats. If you are one of these people, remember to keep your needs in mind when making a purchase.
The low-down here is that if you plan to mainly be doing joy rides. Cruising the intercoastal waterways with friends or family, a deck boat is your best bet. The deck boats have seats right next to each other, as opposed to center consoles.
Which might isolate the people sitting on the deck from the people at the stern. This makes deck boats a lot more suitable for social outings. The raised sides of a deck boat also make it safer to bring smaller children aboard.
If you plan to go offshore and do some fishing, a center console is the way to go. The V-shaped hull of the center console makes it much more capable of handling rough waters than a deck boat.
In addition, the wide-open deck space makes the center console better suited to fishing.
Center Consoles Vs. Bowriders
If not deck boats, you might be looking toward bowriders. Our advice to you is the same; make your choice according to your needs.
A bow-rider is pointier at the bow than a deck boat. This allows it to be more agile and cut the water with more responsive handling. Bow-riders also have a deep V-shaped hull design really similar to center consoles.
However, the open bow and lower gunwales of the bowrider make it not as suitable for offshore excursions. In heavy seas, the bow might take on water. But there are some newer styles of bowriders on the market today.
That has been designed to take on heavier seas and have a more center console style bow. Opposed to the conventional bowrider style bow.
The limited walk-around space on a bowrider also makes it less desirable for fishing. Bowriders are more suitable when you want to have a sporty run on intercoastal waters with a few friends.
For off-shoring or fishing activities, you would be better off with center consoles.
Why Are Center Console Boats So Expensive?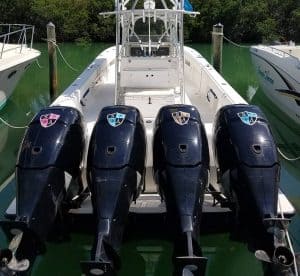 As we previously mentioned, center console boats can be quite expensive. The added cost is due to the materials used, research and development costs, labor costs, meeting EPA regulations and shipping costs.
Some costs add more to the price of the boat than others:
Manufacturing costs: Still today, many boats are hand-crafted. Additionally, boat parts are difficult to ship because of the weight and sizes.
This calls for a big plant capable of completing each step of the manufacturing assembly line in-house. This results in large manufacturing costs.
Technology: Modern center consoles are fitted with an array of different technological devices. These technologies allow the boats to slice through rough waters with ease.
Additionally, some boats feature touch-screen displays and joysticks for detailed information and precise movement of the boat for docking. All these gizmos add to the cost of the boat.
List Of Different Center Console Brands.
There are many different manufacturers of center consoles. Some of the more notable ones are:
Jupiter
Contender
SeaVee
Venture
World Cat
Yellowfin
Robalo
Parker
Grady White
Regulator
Boston Whaler
Freeman
Key West
The dual hull Catamaran design of the World Cat and Freeman makes for a very stable center console. It also enables it to go in shallower waters due to the draft. It even makes the boat more fuel-efficient, though this increase in efficiency is very small.
Now that you know all about Center Consoles. Here are a few more articles that you will find very informational!
How To Get More Hours Out Of Your Outboard With Less Break Downs!
We'd also like to invite you to check out Our YouTube Channel! Where we create all kinds of How-To and DIY boating projects. To teach you more and more about your boat and how it works!