Do you love being on your boat in the summer? Most people love riding in the water, feeling the breeze, and enjoying the summer sun. However, too much exposure to these elements can be dangerous, which is why you need a heavy duty boat umbrella.
It's easy to spend hours on a boat exposed to the ultraviolet rays. However, this leads to various skin issues and impacts your overall health. A heavy-duty boat umbrella can cover you from these rays.
Despite the numerous dangerous problems caused by overexposure to the heat and sun, we know you do not want to leave your boat. Thankfully, having the right boating equipment keeps you protected.
The boat umbrellas are quite similar to traditional ones. However, these umbrellas are significantly larger and provide more coverage than regular ones and they can withstand stronger winds.
People often install traditional umbrellas thinking that they are the same thing as their boat variants. But, they soon learned that umbrellas for boats are nothing like the ones you use at home.
What Makes Boat Umbrellas Different
Other than being much larger, the boat umbrella has several other unique features. First, the household umbrella might not provide enough shade, if it is not large enough.
In comparison, the boat umbrella protects you from sunlight, with it's larger width and ability to withstand higher winds.
A heavy duty boat umbrella can be placed in any rod holder around the boat to provide shade, wherever you need it.
With their larger size, wind resistance, and stronger material. A heavy duty umbrella is going to last a lot longer than a normal, cheaper umbrella.
Essential Considerations for Choosing the Best Boat Umbrella
When purchasing a new shade or heavy-duty boat umbrella, you must keep the following considerations:
Is it Compatible with Your Boat?
Many people buy expensive boat umbrellas only to learn that they are not compatible with their particular vessel.
Whenever you are talking about buying an umbrella to use on your boat. You should make sure it's feasible to do so.
Buying a heavy-duty umbrella can be expensive. And being that it is a larger, stronger, and "heavy duty" umbrella. It could be too much for your boat.
So, consider what you are buying, and if you can use it for your boat, or would it be better used at say the sandbar or the beach.
Is the Heavy Duty Umbrella Easy to Install?
Because we are talking about a serious umbrella here. They are going to be quite heavier than your normal umbrella.
And when you are in a boat, bouncing around in the current and waves. It could be a hassle to put it up. So consider having someone around to help you whenever you use one.
The last thing you want to do is drop the thing off the boat and watch it sink!
How Much Does It Cost?
Boat umbrellas come in different shapes, sizes, and prices. While it is great to make purchases within your budget, spending a little extra money on a high quality, heavy duty boat umbrella would help you in the long run. Why?
Because investing in a subpar product means that you will have to buy another one after a few uses. On the other hand, buying a boat umbrella that is built to withstand the abuse we put them through.
Will end up saving you money in the long run.
Is it Waterproof?
Umbrellas are available in various materials. It would be in your best interest to choose a waterproof option.
Some umbrella materials are not waterproof and take hours to dry. Most experts recommend using polyester-based boat umbrellas because of their excellent ability to resist water.
The last thing you want to have is an umbrella that can't even repel water!
Is the Heavy Duty Boat Umbrella Durable Enough?
Durability is an essential consideration, as weather and numerous other elements, can wreak havoc on them quickly.
Nobody wants to spend money on multiple boat umbrellas in a short period. Therefore, it would be best to choose a durable product provided by a trusted brand.
Does It Provide UV Protection?
UV rays, also known as ultraviolet rays, are immensely dangerous, particularly when they hit our bodies for long periods. Luckily, people are becoming aware of its negative impact and choosing products that shield these dangerous rays.
You should also ensure that the boat umbrella you choose offers protection from UV rays. People who know the harmful effects of ultraviolet rays are replacing their regular umbrellas with UV proof ones.
Most of them are larger and sleeker, protecting you from the heat wind, and most importantly, the sun's rays. It would be best to choose a boat umbrella with a UPF rating of over forty.
Where Can You Mount It?
Every boat umbrella has a different mounting mechanism. Companies create them to fit particular boat models. You must ensure that the product you are purchasing is compatible with your boat. 
It should not cause you trouble when mounting it. We'd suggest sticking with umbrellas that can just be put up and stuck in the rod holder of the boat!
Can It Tolerate Heavy Winds?
You would be surprised to learn that not all boat umbrellas can tolerate heavy winds.
Therefore, it would be best to choose an option that can offer excellent wind resistance. Heavy-duty materials like polyester are ideal because of their wind tolerance and will not fail regardless of the wind speed.
We suggest looking into our favorite umbrella here, which has been tested to withstand winds up to 60MPH!
Is it Big Enough for Your Boat?
Size is a critical factor every boat umbrella buyer should consider. It would be best to look at the umbrella's diameter before buying it. Why? Because every boat's make and dimensions are different, and you should choose an umbrella that matches those elements.
If you are a solo rider, a small boat umbrella will suffice. However, you may need a bigger one if you have family members and friends on board for long rides.
Why Every Boat Owner Should Buy a Heavy Duty Boat Umbrella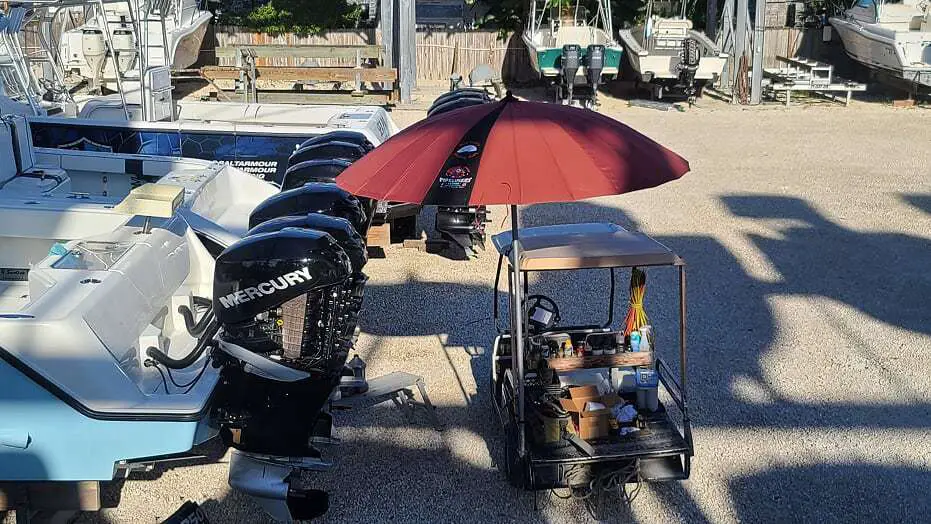 Are you still unsure about whether you should buy an umbrella for your boat? The reasons mentioned below will convince you why getting one would be a great idea.
Boat Umbrellas are Versatile
Boat umbrellas are incredibly versatile. You can put them up at the sandbard, on the beach, at your house on the porch without much hassle.
Consider choosing a version with an extended arm as it will help you adjust the umbrella's length according to your requirements.
However, this is not applicable for every boat umbrella – you will need to choose a model with versatile features carefully.
They Protect You from the Sun and Rain
Companies especially create boat umbrellas to offer protection against the sun. As mentioned earlier, UV rays are dangerous and can destroy our skin if we remain exposed to it for hours.
Installing a heavy-duty boat umbrella will shield you from these harmful rays, allowing you to enjoy your boating experience without fear. Furthermore, some umbrella variants also offer excellent protection against the rain.
Consider installing a polyester umbrella for exceptional protection against water.
The Best Heavy Duty Boat Umbrella Material
While you will find boat umbrellas in tons of materials, polyester is arguably the best option. Why? Its mold and heat-resisting qualities are second to none.
Furthermore, it is an incredibly low-maintenance fabric, as you will not need to put in much effort cleaning it. Polyester is also immensely durable – compare this material to any other and you will learn that it lasts longer.
Flexibility is another excellent quality offered by heavy-duty boat umbrellas made with polyester fabric. They do not form wrinkles, and their wind resisting capabilities are better than any other option.
In addition, this material dries pretty quickly. Unlike other materials, which take hours, polyester dries within minutes, making it the best option for boats.
Are Heavy Duty Boat Umbrellas Worth It?
Ask any long-time boat enthusiast, and they will gladly tell you that heavy-duty boat umbrellas are one of the most essential boating accessories.
They are available in numerous designs and colors, ensuring that you can choose one that matches your boat's style.
Are you buying a boat umbrella for the first time? If yes, there is a chance that you may purchase the wrong item due to your lack of experience and knowledge.
Luckily, you can get the best heavy duty boat umbrella for your watercraft by remembering the considerations mentioned above. Our guide keeps you on the right track.
And checking out our recommendation for the heaviest duty umbrella that we have found to use when we are on our boat!
We'd also like to invite you to check out some of our other articles that you will find helpful when it comes to your boating adventures!
As well as our YouTube Channel where we cover all things boating!