Anybody who goes to the beach should take a beach umbrella or sandbar umbrella to protect themselves from the harsh sun and other elements. You will be surprised to learn that not all sandbar umbrellas are the same. These valuable items come in different sizes, designs, and features.
Beach & sandbar umbrellas maximize your enjoyment and the time that you can spend on your water adventure. Shade and refuge from the sun will save your health, time, and experience.
Therefore, it would be best to ensure you choose the right accessory suitable for your beach related needs.
Before we proceed to discuss the critical considerations to keep in mind when buying a sandbar umbrella, let us briefly discuss what it is and why you need it.
What is a Sandbar Umbrella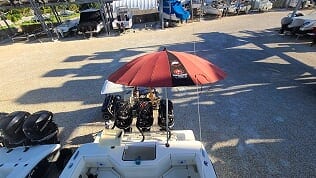 Millions of people love to rejuvenate and relax outdoors, preferably on the beach. While there is nothing more refreshing than spending an entire day at the beach, your experience could be terrible if you go without the proper protection.
Of course, you don't have to load up your vehicle with loads of accessories, but essential items like a swimsuit, sunscreen, and a sandbar umbrella are a must for every beach goer.
A sandbar umbrella is one of the best ways to get ample shade when relaxing on the beach. You can install it almost anywhere you please and relax for hours without a worry in the world.
However, you do need to choose the correct product. As mentioned earlier, there are different sizes and types of sandbar umbrellas available in online and offline stores, and choosing the wrong umbrella could be massively inconvenient.
How is a Sandbar Umbrella Different from a Regular Umbrella?
Contrary to popular belief, sandbar umbrellas and traditional umbrellas are vastly different. Of course, they have some similarities, but you don't want to use a regular umbrella on the beach or a sandbar.
Traditional umbrellas, while handy, are quite delicate, especially when used at beaches. They cannot withstand the heavy wind gusts, rain, and harsh weather elements that you will incur while at the beach.
Users also face difficulty installing traditional umbrellas at the beach. Why? Because companies make them for handheld use and or setting up on your patio.
On the other hand, manufacturers create sandbar umbrellas, particularly for the beach. They are significantly heavier, longer, and more importantly, robust.
Most sandbar umbrellas are foldable, ensuring you can carry them in your car's trunk or a roof with minimum hassle.  They also have an anchor, allowing you to install and stabilize them anywhere on the beach.
How to Choose the Right Sandbar Umbrella
Here are the top criteria you should use when choosing the right umbrella for the sandbar.
Size
You must never ignore the umbrella's size. Why? Because everybody has different requirements.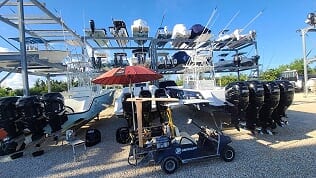 Some individuals travel with large groups while others travel solo. It would be best to select an umbrella that suits your particular requirements.
How many people tag along with you at the beach? If the answer is many, going for a large umbrella, preferably seven to eight feet, would be in your best interest (it will cover 2 or 3 adults.) However, if it is only going to be you, select a smaller umbrella (five to six feet.)
A critical factor when selecting the right size of the sandbar umbrella is what the producer means by its product's diameter. While the diameter is generally a straight measurement (starting from one point and ending at another), some umbrella manufacturers consider the diameter as the measurement over the umbrella's arch.
You could end up with the wrong sized product if that is indeed the case. Consider clarifying this issue with the manufacturer to eliminate confusion and get the sandbar umbrella that suits your size requirements.
User Friendliness
Modern sandbar umbrellas come with various options on their lower poles for securing them into the sand. The last thing you want to do while enjoying your time at the beach is running after your umbrella after strong winds blow it away.
Consider choosing a sandbar umbrella with a sizeable screw on its bottom pole as it will ensure that pitching your umbrella into the sand is not a problem. Avoid pressuring the pole if you are having trouble twisting it inside the sand as you could end up bending it.
It would also be ideal to invest in a carry bag to simplify things for your beach trips for added ease of use.
Protection against the Elements
You should choose the highest quality umbrella on the market even if you have to exceed your budget. Of course, investing in a poor sandbar umbrella will save you some money, but at what cost?
In most cases, low budget umbrellas tend to break and do not offer the protection required at the beach, leading you to invest in another umbrella. 
Investing in a high-quality umbrella ensures that you don't have to buy new ones every year. As long as you choose the product from a well-reputed company, you can breathe a sigh of relief, knowing that it is durable and will last for a long period.
Opting for a sandbar umbrella with superior quality will also ensure that you remain protected against the wind and UV rays (also known as ultraviolet rays.) Consider investing in an umbrella that provides more than 90 percent UV protection.
Choose an umbrella containing a silver lining, which is what protects you from the harmful rays. That said, a UV proof accessory is not enough for protection. You should also wear sunglasses and sunscreen to steer clear from sunlight during your stay at the beach.
Overall Value
Investing in an inexpensive umbrella mostly means that it lacks durability and doesn't provide the top-notch protection you would expect from a sandbar umbrella.
Theoretically speaking, buying an expensive umbrella doesn't offer any guarantees either. Why? Because sometimes costly, umbrellas are just that – expensive and provide little to no upgrades over their inexpensive counterparts.
Sure, they might look fancy because of their design and color patterns, but that will be the extent of the value they offer.
Beaches are windy and open places, and you can always expect heavy wind gusts every time you go there. If your sandbar umbrella has narrow arms and pole, it will not go through as much damage as other variants.
 You should also check your umbrella for wind vents – numerous companies sell sandbar umbrellas with vented canopies that can withstand heavy winds without getting damaged.
Furthermore, it would be best if you opt for a company that provides warranties. Most, if not all, sandbar umbrella manufacturers offer warranties, proving that they have the utmost confidence in their product's features and durability. 
Aftermarket Accessories
Due to the ever-increasing popularity of sandbar umbrellas, you will find many aftermarket accessories on the market. They can enhance your umbrella's functionality, ensuring that you can keep them safe and use them in different ways.
Once again, the product's quality and features come first – sure, having a product with aftermarket accessories is great, but it should always be a secondary consideration when choosing.
Final Thoughts
Sandbar umbrellas are a must for every beach goer. They protect you from the sunlight, rain, and heavy winds. Remember the considerations discussed in this article when choosing a sandbar umbrella, and you will find one that suits your particular needs.
The umbrella that we have come to love is a Heavy Duty Umbrella that is made for outside workers. But because of it's design and structure, it makes a perfect beach or sandbar umbrella! You can see them here where they have been tested in winds up to 60-MPH!
We'd also like to invite you to check us out on our YouTube channel where we create all kinds of how-to and DIY boating videos to help you become a better boater and avoid issues!