Umbrellas aren't only for protection from rain but are also used to shield people from the sun and sometimes in windy climates. Traditional umbrellas do not offer much other than protecting you from rain, but generally fail in windy conditions!
You need a strong wind resistant umbrella to protect your skin from damaging UV rays from the sun. As well as protection from the rain without having to worry about the umbrella failing under high wind.
Most boaters also like to have these umbrellas on their boats. They enhance the enjoyment while on the water and allow you to spend more time on the water!
Therefore, opting for a wind resistant umbrella would be in your best interest. It will keep you dry and cozy regardless of the strong winds. Are you new to these types of umbrellas? If the answer is yes, continue reading as we will discuss why and how you should choose this boating accessory.
Windproof Umbrella – What is it?
Contrary to popular belief, a wind resistant umbrella is vastly different from traditional types as manufacturers design it to remain open. This is done to avoid the umbrella from breaking when the winds are strong.
Thousands of companies manufacture this umbrella type. Most of them use sturdy materials to ensure the product's quality is excellent, and it remains intact during the harshest of weather.
While the level of protection these umbrellas provide varies on several factors (materials, manufacturer, size, etc.), most umbrellas can hold out against strong winds ranging from twenty to even sixty miles per hour!
High quality windproof umbrellas do not come cheap and are typically costlier than traditional versions due to the superior materials used to create them. However, you can also find one within your budget.
How Do these Wind Resistant Umbrellas Work?
As discussed abundantly, windproof umbrellas are better than regular ones because they are sturdier and do not break in strong winds. On the other hand, the sticks on traditional umbrellas are quite flimsy and prone to damage.
What makes windproof umbrellas better is that their sticks are heavier, thicker, and denser and require much more force to get them to break. Their incredible durability makes them a go-to option for most boat owners.
Especially if you like to frequent taking your boat to say the reef, sandbar, or the beach!
Sometimes, windproof umbrellas will have tiny vents, allowing some air to pass through the umbrella. This design reduces pressure to ensure that its bars do not break.
You may argue that having vents is counterintuitive for windproof umbrellas, but it is an effective way to prevent the accessory from breaking. Besides the ventilation, these umbrellas are incredibly flexible – another reason they are more durable than traditional versions.
What is the Difference Between a Vented Umbrella and an Unvented Umbrella?
Most windproof umbrellas generally have vents, which is how they shield you from the sun and rain in windy conditions. Vented umbrellas generally have interior canopies consisting of smaller vents allowing the winds to go through.
It is a significant reason these umbrellas remain sturdy for years while also protecting from rain.
Unlike vented umbrellas, their unvented variants only possess a single canopy. It is vastly different from its windproof counterpart because it doesn't have holes to relieve the pressure of the wind.
However, the lack of holes serves a purpose, which is to offer complete protection against the rain. While unvented umbrellas will shield you from raindrops, they are also only available up to a certain size.
Because they can only remain wind resistant up to a certain size before they begin to become flimsy and vulnerable to breaking.
How to Choose a High-Quality Wind Resistant Umbrella?
You will find loads of wind-resistant umbrella manufacturers today. As discussed earlier, most of these companies use similar materials and technologies to create their product.
The abundance of these umbrellas can make it hard for people to choose one. Are you one of those people too? If the answer is yes, here are some essential considerations that will help you choose the best wind resistant umbrella for your boat.
Materials
Companies use different materials to manufacture wind resistant umbrellas. While every material serves a purpose, it would be best to choose a material that lasts long and offers superb protection against the wind, rain, sun, and other elements.
Long time boating enthusiasts often recommend using umbrellas made from polyester. They recommend this material because of its low maintenance and excellent durability – your polyester wind resistant umbrella can remain intact for years with adequate care.
Design
Since most windproof umbrellas feature similar materials and technologies, why not choose one based on appearance? You will find wind resistant umbrellas in a decent design range.
Choose one that adds visual appeal to your boat or any other area you want to use it for. You can also get some stylish accessories to improve your umbrella's aesthetic appeal and put your sense of style on full display.
Construction
People often ignore the construction of the umbrella they are buying. For those who don't know, a wind-resistant umbrella's construction is arguably the most critical thing to keep in mind before buying one.
You should start by checking if the umbrella's pole is sturdy. Why? Because it will help you determine whether you can use it on your boat or other preferred locations without it failing under the elements!
Umbrellas contain different materials such as PVC, steel, aluminum, and wood – it would be best to choose the most durable option to ensure they last as long as possible.
Some boating enthusiasts recommend using a powder coated metal to avoid rusting.
Consider choosing an umbrella with a foldable or detachable pole. It is a versatile option and makes portability more efficient by letting you fold your umbrella and carry it without occupying too much room in your vehicle or boat.
Guarantee
When searching for a wind-resistant umbrella, consider opting for a company that offers a long-term guarantee for its products. Some manufacturers provide lifelong guarantees while others provide money-back offers if the product gets damaged.
Offers like these show that the manufacturer tested their umbrellas properly and are selling durable, high-quality products.
Though most of these warranties are limited to a time sensitive clause. Simply because they know we all end up abusing these heavy duty umbrellas over the years :)!
The Umbrella's Size
Size is a critical element everyone should remember when purchasing a windproof umbrella. It would be best to look at the accessory's diameter to ensure it fits the area you plan to use it in.
As we all know, space on a boat gets pretty limited and the smaller the boat, the less space we have.
Do you like to spend time on your boat with family members and friends? If yes, choosing a large umbrella (nine feet or more) would be in your best interest. Because it generally will fit in and cover most boats.
 However, if you are a solo rider, a relatively smaller wind resistant umbrella (with a diameter of six to seven feet) would be ideal.
Remember, choosing the incorrect size could cause you trouble putting up the umbrella on your boat or patio, sending your money down the drain and your frustration through the roof!
It would help if you shortlisted your options while keeping your preferred size in mind to choose the correct windproof umbrella.
What are the Advantages of Buying a Wind Resistant Umbrella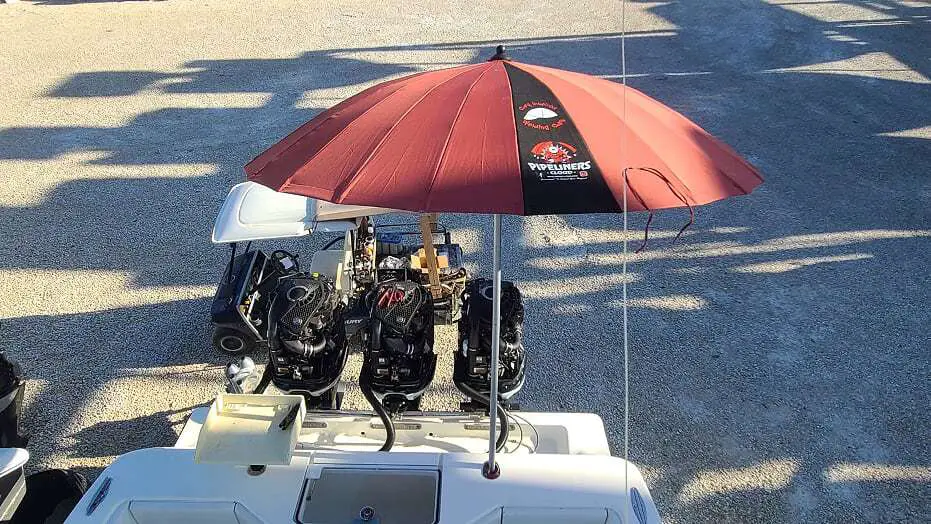 At its core, a wind-resistant umbrella, as its name implies, protects you from the sun and rain will holding strong in heavy gusts of winds.
As mentioned earlier, it is a significantly better option than traditional umbrellas because of its incredible durability and versatility.
If you are still on the fence about buying these umbrellas, let us discuss some other convincing benefits:
UV Proof Variants
You will find UV Proof wind resistant umbrellas in some online and offline stores. They provide you the added benefit of protecting you against ultraviolet rays.
For those who don't know, UV rays are incredibly dangerous and can cause significant damage to your skin. In particular, boaters are in danger of developing various skin problems due to their overexposure to ultraviolet light. 
Fortunately, you can eliminate this issue by utilizing a UV proof wind resistant umbrella. Sure, the vent system in some of these accessory will not provide the level of protection offered by traditional umbrellas. Still, it is a much better option, especially considering that windproof umbrellas are more durable.
You can put it in Multiple Places
What's most impressive about windproof umbrellas is that you can put them wherever you want! You can detach them and fix them in your patio, lawn, and other areas.
Sticking the umbrella in a rod holder on the boat and then as the sun moves. You can just move the umbrella from rod holder to rod holder around the boat, keeping you protected all day long!
However, it is worth noting that you can only do this with particular umbrella models. Ensure you buy an umbrella that doesn't restrict you when it comes to usage.
It Makes for an Excellent Relaxation Spot
Wind resistant umbrellas are sturdier and make for an excellent relaxation spot. They withstand high-pressure winds while offering you ample shade to get some shut-eye or enjoy the ocean's view.
Final Thoughts
Getting a windproof umbrella can help you with your daily fight with the sun and provide a smooth boating experience. Modern wind resistant umbrellas have excellent technologies, protecting you against the strongest of winds without breaking!
Now that you know the essential considerations for buying a wind resistant umbrella, consider buying one and using it on your boat or patio to enjoy the outdoors without interruptions!
We'd also like to invite you to read some of these other super helpful articles to enhance your knowledge of boating. As well as checking us out on our YouTube Channel where we create all kinds of how-to and boating DIY videos!