As you head out on the water, you have many decisions to make. One of the most important is whether you will use a boat leaning post, cooler seat or captain chairs to remain comfortable all day.
While each option has its own set of benefits and disadvantages, there is one that should work best for your situation.
The boat leaning post is simply elevated support with a cushioned seat. It's different from a cooler seat, which is found on the top of a cooler, or the standard captain chair, which is a single-person chair.
To determine which one is ideal for you, it's essential to look at what each offers and compare that to what your desires are. We will examine each option closer.
What are Boat Leaning Posts?
A leaning post is a simple elevated support. It features an integral seat with a cushion and is found behind the helm.
Most leaning posts also have a backrest, which provides some stability and added comfort.
With most leaning posts, you find that there is room to move without restriction. The captain can either stand or sit during the trip.
If you regularly ride across rough or bumpy water, you will find that the padded seat helps to absorb some of the shock.
Under the leaning post, there is often room for a cooler.
Additionally, this design allows the captain quick access to any of the controls. However, there are several different kinds of leaning posts on the market.
Boat Leaning Posts Types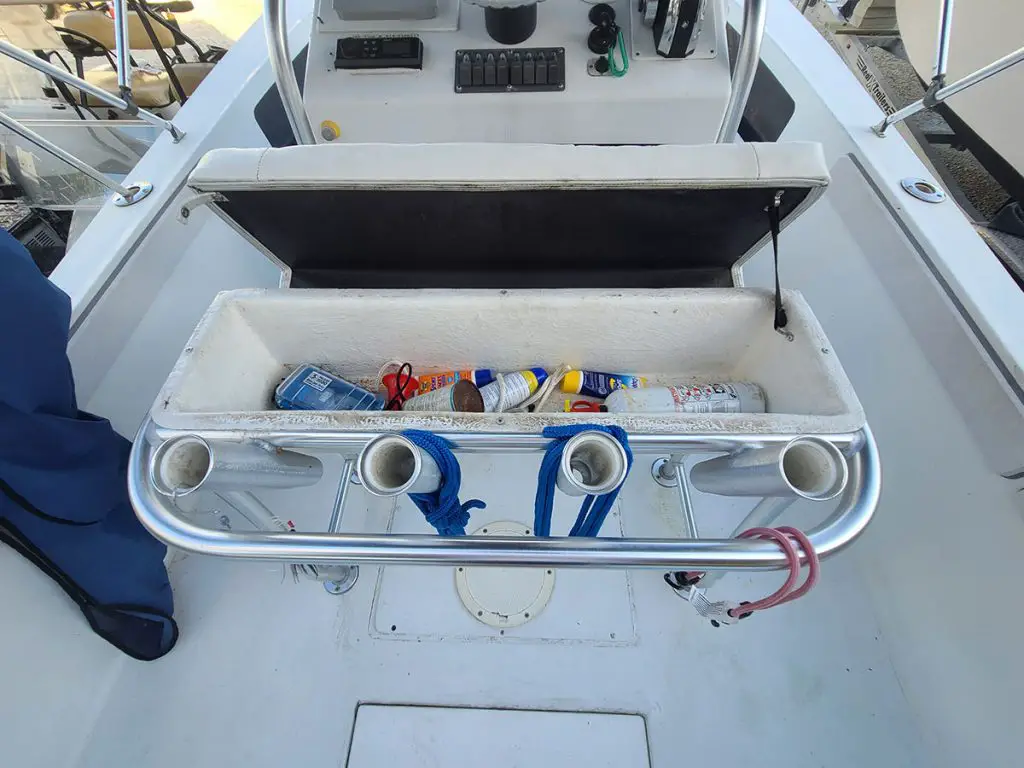 To find a leaning post, you will want to examine the function and size. You would either choose a smaller or larger boat design.
The small learning post features a width of around three feet. It's made with marine-grade materials that handle any harsh conditions with ease.
Look for models made from a variety of materials, such as injection-molded resin, marine-grade stainless steel, or anodized aluminum alloys.
With the additional space, there's room for coolers, backrests, shelves, and any number of modifications.
Because it also features a cushioned seat, you can sit down while traveling through calm waters.
The larger leaning post offers room for multiple people. If you plan to host parties, this is a great option to ensure your guests remain safe.
Additionally, the larger posts are also made with heavy-duty materials for maximum durability in the unpredictable waters you travel.
And many times will have additional storage underneath the seat cushion of the leaning post!
What Does a Boat Leaning Post Cost?
You can spend as little as $200 for your standard leaning post. However, there's no limit to the cost. If you want a custom post, it's easy to spend more than $1,000.
Aside from the size, the other price factor is what features come with it. If you have an unlimited amount of money to spend, you can find some cool designs and styles.
Boat Leaning Post Main Advantages
As the boat heads through rough waters, the leaning post provides a place of stability for the captain. It's one of the biggest advantages of choosing this type of seating arrangement.
Plus, there is room to store your other marine equipment, which keeps everything at your fingertips.
With the ability to customize a leaning post any way you want it, it's simple to create the boat design of your dreams – whether that includes shelving or other features.
Boat Leaning Post Disadvantages
While the leaning post does provide some comfort, it can take time to adjust to. It's not ideal for sitting for long periods of time, but ideal for standing.
Sometimes, leaning posts can also be located too far from the controls and wheel, making it difficult to sit while driving.
Boat Leaning Post Installation
You can install your leaning post with some simple tools and basic instructions.
Tools Needed:
Socket wrench set
Jigsaw
Tape measure
3M 4200
Wax pencil
Power drill
Flashlight
Give yourself an entire day to get the job done. Additionally, you want to read all of the directions provided by the manufacturer before getting started.
Step #1: Pick the Location
Figure out where you want to put your leaning post. Ideally, it should sit about a foot from the console, but this will all be determined by the location of your steering wheel, the control box, and the rest of the console set up.
Making sure that you have enough space between the post and your boat controls.
Place the post in its spot and try using the controls. Pretend to pick up your drink, use the GPS and play with the other systems.
Everything should be comfortable to access.
Now, you want to mark your spot with a pencil. Make sure you mark every fastener hole.
Step #2: Inspect Location
Before you plan the leaning post, you need to see what's below the surface. After all, you don't want to fasten mounting bolts or drill where you will create damage to the vessel.
If you can't use the deck plates to see what's underneath, you can look at a diagram from the manufacturer.
Alternatively, you could also cut yourself a temporary access hole and inspect the area with your flashlight. However, this option is risky as you might hit hoses, electrical wires, or structural pieces of the boat.
Step #3: Drill Mounting Holes
Once you know where you want your leaning post, it's time to drill some holes. By using masking tape to mark the depth, you won't drill further than necessary.
Once the spot is drilled, you can match up the leaning post to ensure everything lines up. Seal up the bolts as you secure the post in position.
After you bolt the post to its spot, you want to install backing plates through the access point. You can opt for washers and locknuts for the aluminum parts and T nuts for any lumber pieces.
Secure everything tightly.
Step #4: Apply Finishing Touches
Once everything is secure, you can cover the access hole with a deck plate.
What are Captain's Chairs?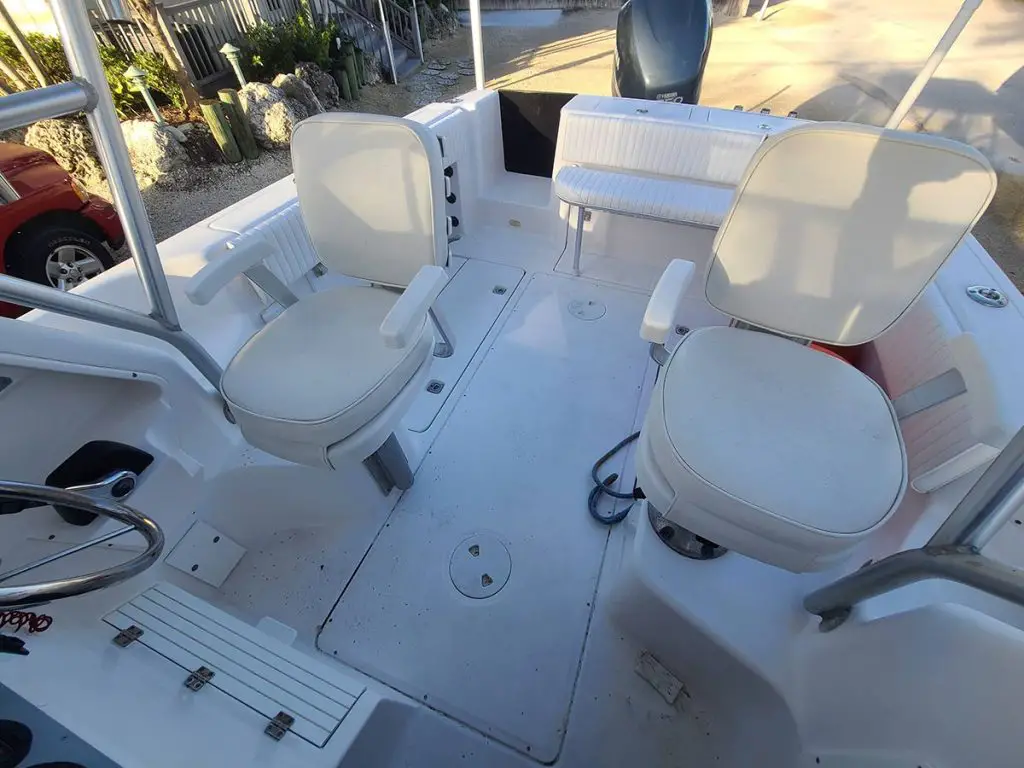 The captain's chair is a more comfortable option. It features armrests and thicker padding. These are commonly found in runabouts, fishing boats, deck boats, and pontoons.
Captain's Chair Advantages
There's no question that the most comfortable experience occurs with a high-quality captain's chair. You can kick back and enjoy your time on the open water.
Captain's Chair Disadvantages
However, this boat seating design takes up more space. It can also be difficult to get around, especially when working in a tight area.
It can also impede movement when fishing and working around on the boat when you are catching fish.
Captain's Chair Installation
Thankfully, the installation of a captain's chair on a boat is similar to the leaning post. You will bolt the chair down in an appropriate location, just as would with the other option.
Follow all of the manufacturer guidelines when installing your seat and make sure you leave yourself enough space, but place the chair close enough to the controls.
What are Cooler Seats?
Many fishing boats come equipped with a large cooler on board. As your crew becomes tired, everyone will want to sit down and take a load off.
With simple snap-on cushions, you can outfit the cooler with a seat.
Cooler Seat Advantages
The cost to add a cushion to your cooler is minimal. Plus, you won't have to do any extensive installation, as with the previous options.
It's simple to find durable materials, including UV-resistant marine vinyl plus stainless steel snaps.
Cooler Seat Disadvantages
The cooler seat isn't going to be as comfortable as the other options. Additionally, you will have to move if you need to get into the cooler.
Other Boat Seating Options
While we have discussed the top three seating options – boat leaning posts, captain's chairs, and cooler seats, you can make several other choices.
Here are a few unconventional ideas that might work better for you.
Portable Deck Chairs
You can choose a variety of portable deck chairs for your boat, from a traditional heavy-duty seat or a simple fold-down option.
If you choose something made from lightweight aluminum, you can quickly fold the chair down and stow it when it's not in use.
Plus, there are many options with mildew-resistant fabrics for maximum protection.
Beanbag Chairs
You don't have to be a child to enjoy the good old-fashioned bean bag. You can use this option as a center console seat.
Plus, the beanbag chair will fit on any boat and stow away with ease.
If you purchase a dedicated marine beanbag, you get some additional benefits. Look for marine-vinyl material that's water-repellant. You can also opt for a design with a high back and armrests for more comfort.
Browse available bean bags to find a color and upholstery that suits your boat the best.
Portable Center Console Seats
While these look similar to the beanbag, they feature a different construction. The powder-coated seat normally has an internal steel frame to provide more support.
You can also fold some of these up like a backpack and take them anywhere.
Flip-Up Seats
With some aftermarket styles, you can find a seat that locks in place but also folds away for easy storage.
Additionally, you can find larger options to seat more than one person. Look for a variety of widths available on the market.
Boat Seating Buying Guide
Before you purchase any seats for your boat, there are a few things you want to consider.
Space Requirements
Take your time and measure the space where you plan to put seats. Don't just measure for the cushions, but the entire footprint of the seats.
Make sure you take into account the space you'll need around each seat.
Passenger Accommodations
As you look at options, determine how many seats you will need. If you are only looking to improve the comfort of the captain, buying one chair is much easier than designing an entire passenger area of a vessel.
Style & Design
If you are replacing a seat, you want to choose a similar style to what's already included with your boat. Make sure you maintain the same feel and ambiance that you already have.
Storage Options
Adding seats can also increase your storage capacity. If you need more storage, consider looking for seats that feature space below for your gear.
Hardware & Materials
You want to examine what materials come with your purchase. In some cases, you won't get the hardware included.
You will either want to save the bolts, screws, and hardware from the previous seats or purchase new equipment.
Outfitting your boat with the best accessories and seating you require isn't difficult if you take your time, make an educated choice and carefully install the furniture.
You might even decide to outfit your boat with a heavy-duty umbrella to take its function to new heights.
And if you would like to support us to continue bringing you great content, please click the link below to Amazon where we get a commission from anything you are already going to buy! Click Here To Amazon! 
Thanks for taking the time to read this article. We hope you've learned more about boat seating and your options.
Learn more by checking out some videos on our YouTube channel or by reading a few more blog articles. Make sure you share the content with your boat-loving friends.